Sinn Féin criticise leaked draft Westminster bill dealing with legacy of the Troubles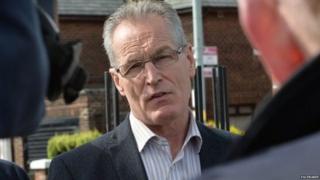 Sinn Féin have said that proposed legislation on dealing with the legacy of the Troubles is "inadequate".
A draft Westminster bill which was given to the Northern Ireland political parties during inter-party talks has been leaked to the media.
It details how the planned Historical Investigations Unit (HIU) and Oral History Archive would operate.
It also has measures relating to how the disclosure of information classed as "sensitive", "prejudicial" and "protected international information" could be regulated.
Sinn Féin have claimed that the draft legislation does not reflect the Stormont House Agreement in December 2014.
North Belfast MLA Gerry Kelly said: "Substantial changes are needed to get back to what was agreed, particularly around maximum disclosure for families.
"It is clear from reading this document that the focus of the British government appears to remain on hiding the truth rather than on full disclosure."