Basil Blackshaw: Portrait of an artist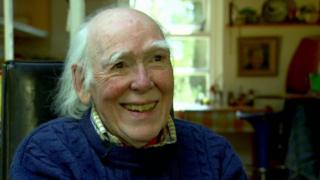 Basil Blackshaw is one of the most talented and well-known of Irish artists, but the County Antrim man is also one of the most elusive and enigmatic.
The extremes to which he goes to guard his privacy include wearing a paper bag over his head when visiting one of his own exhibitions.
For the most part, his paintings have provided the only clues as to what makes him tick.
However, the 82-year-old has now agreed to be interviewed on camera for the first time.
In Basil Blackshaw: An Edge of Society Man, the artist reveals his thoughts on "making paintings".
Among those giving their views on Blackshaw are novelist and friend Jennifer Johnston, fellow artist Neil Shawcross and poet Michael Longley.
Asked what he would have been if not an artist, Blackshaw tells the programme he would have been a butcher.
Blackshaw was born in 1932 in Glengormley, County Antrim, and was raised in Port Mills in County Down.
He was educated at Methodist College Belfast, then went to the Art College in the city at 16, where he immediately made an impression on his teachers.
One of them, Romeo Toogood, told the other students that "Basil is the daddy of you all".
He married Australian artist Anna Ritchie in 1959 and the couple had a daughter, Anya, who was raised in Ravarnet, near Lisburn.
She describes her childhood memories of her father.
"He used to change my nappy on the sofa with 10 dogs beside me, so that is my first recollection of Ravarnet," she says.
"It was just chaos, with people coming and going every day of the week. There were dog men, vets, dogs, horses, anything you could think of - there were lords, ladies, painters - crazy."
At one time the Blackshaws were training a total of 55 greyhounds.
"It was between dogs and horses mainly, that was just their life, that was all there was - painting dogs and horses," Anya Waterworth adds.
This was reflected in Blackshaw's paintings depicting country life.
"There's almost a sense of feeling the heartbeat of the animal he's painting. So it's alive, it's not stagnant," Grant Ford, head of British and Irish art, Sotheby's tells the programme.
International art consultant Mark Adams adds: "He's so plugged into that huge throbbing heart of the natural world."
However, after a fire at his loft student in County Antrim in 1981, Blackshaw's art took a different direction.
Of the fire, Blackshaw tells the programme: "I could go and do the same thing all over again any day and it was going to be the same painting, a good painting, well painted, but it was nothing new, nothing exciting.
"When the studio burnt down it let me step back and see these things as going nowhere."
Fellow artist Neil Shawcross says: "It seemed to push Basil into a more challenging area, a much more exciting area.
"The paint was taking over, the paint was dictating where Basil was going."
Among the new works were some stark pictures of windows.
"When I saw those at the Ulster Museum, I genuinely felt they were the greatest paintings that I've seen produced in Ireland in my lifetime," Neil Shawcross says.
"I'm more aware of the presence of Basil in those windows and how he feels about just being alive."
His portraits included one of actor Clint Eastwood, for which he used bits of cardboard and newspaper.
Among others sitting for portraits was poet Michael Longley.
"Sitting for Basil Blackshaw was an electrifying experience," he says.
"There were these rubbing and scraping noises. Basil, in between bits of conversation, was groaning and grunting.
"He has a rare ability to capture a likeness, but it's much more than I likeness, it's the soul of the person."
Basil Blackshaw: An Edge of Society Man is on BBC 2 Northern Ireland at 22:00 GMT on Thursday.