Sport Northern Ireland: Chair and vice chair step down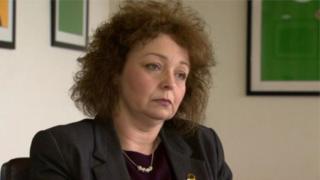 The chair and vice-chair of Sport Northern Ireland (Sport NI) have resigned from their posts.
Sports Minister Carál Ní Chuilín appointed interim staff to take their places following the announcement on Thursday.
The resignations follow an internal investigation into Sport NI after concerns were raised by its employees.
More than a third of staff there claimed to have experienced bullying, harassment or humiliation.
Nine of Sport NI's 14 board members also resigned in July last year.
Sport NI is an arms length body of the Department of Culture, Arts and Leisure.
Dignity at work
The chief executive of the organisation, Antoinette McKeown, remains suspended while an investigation is under way.
Brian Deleaney has replaced Brian Henning as chair and Dr Catherine O'Mullan has replaced Ian McAvoy as vice-chair.
Ms Ní Chuilín said an independent and confidential survey of staff at Sport NI had found an "absence of clear leadership and direction" within the organisation, as well as poor management of grievances and evidence of Sport NI's Dignity at Work Policy not being followed.
She said: "I have discussed these findings with Brian Henning and Ian McAvoy. They both feel that the time is right for them to step down from their positions as chair and vice chair respectively to make way for a new leadership team at board level to implement the recommendations.
"I thank them for the commitment and passion to the furtherance of sport and for their hard work and dedication during their time as board members,."