Burglary: Reports decrease in month-long PSNI sting but rise over year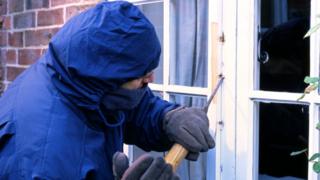 The number of burglary reports in Northern Ireland has fallen in a month-long police drive to target the crime but has risen over a longer spell.
Operation Cordella was mounted between 15 February and 13 March, during which 460 burglaries of homes were reported.
That was a 15% drop on the 540 reports in the same period last year.
But figures only relate to a four-week period, and the number of domestic burglaries reported across an 11-month spell increased by 2.6%.
Between 1 April 2015 and the end of February 2016, the number provisionally recorded was 5,988 compared with 5,839 in the same period the previous year.
One-off
The Police Service of Northern Ireland's Supt Simon Walls said that was "clearly not a figure I'm comfortable around" and that operation was mounted in response to it.
It involved setting up vehicle checkpoints, carrying out searches at "premises of interest", deploying cash sniffer dogs and providing advice to people on securing their premises.
But Supt Walls added that it was a "one-off operation".
"What we now need to do is make sure we build the learning from Op Cordella, build that reassurance in and make sure that becomes part of our daily business," he added.