Man who hit police vehicles during chase jailed for 18 months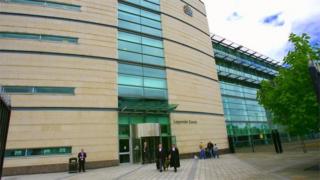 A man who hit two police vehicles during a car chase in west Belfast has been jailed for 18 months.
Paul Liam Valliday of John Blacking House in the Lower Regent Street, Belfast, was sentenced on Monday.
His charges included aggravated vehicle taking and carrying an imitation firearm in public.
The father-of-two, 39, was banned from driving when the offences occurred in June 2014.
He was told he will spend half his sentence in prison, with the remaining nine months on licence upon his release.
Disqualified
He was also disqualified from driving for five years.
At a previous hearing, a prosecution lawyer told Belfast Crown Court that Valliday was spotted by police on 30 June, 2014, driving a stolen Audi A3 along Divis Street.
Police sounded their sirens, but Valliday failed to stop.
A pursuit ensued in which one police car drove ahead of Valliday, while a second pulled along aside in a tactical manoeurve to bring the car to a halt.
The police car in front was repeatedly rammed by Valliday causing significant damage, while the second police vehicle was also hit.
When the stolen car was eventually stopped, officers found a long barrelled air rifle in the rear passenger footwell.
Damage
Judge Gordon Kerr QC was told that the damage caused to both police vehicles amounted to £13,000.
Mr Purvis said Valliday had a "substantial record" with over half of the offences for driving matters.
A defence barrister said Valliday was intoxicated at the time of the offending after breaking up with his partner, adding he had addiction issues with drink and drugs.
He also revealed that Valliday is a primary carer for his gravely ill father and that despite having a bad record, he has had time to reflect on what he did and "has definitely learned his lesson."