West Belfast: Barber shop damaged in suspected arson attack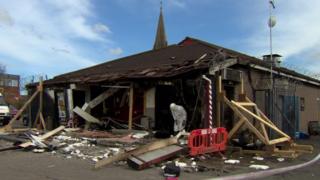 A west Belfast business owner has said jobs could be lost after his barber shop and taxi depot were destroyed in a suspected arson attack.
The fire started in the premises at Bingnian Drive off the Glen Road at about 04:30 BST on Sunday and police said an explosion was reported.
The shop units may have to be demolished as the blaze caused structural damage to the property.
Owner Steven Comerford said he did not know why his business was targeted.
"We've been in the community [for] 18 to 20 years," he said.
"Just don't know why somebody would want to do something like that.
"It's hard enough with the day-to-day runnings of a business and to manage staff and do your daily routines, without the added pressure of [wondering] where do we go from here."
Police have appealed for witnesses.