Laura Marshall: Funeral of Lurgan murder victim takes place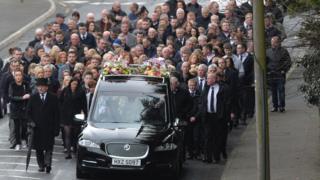 The funeral of Laura Marshall who was found murdered in her flat in County Armagh has taken place.
The 31-year-old was found dead in a bath in a flat in Victoria Street in Lurgan on Sunday 3 April.
The funeral service took place in St Peter's Church in Lurgan.
A 36-year-old man appeared in court on Friday charged with her murder. Gary O'Dowd, from Knocknagore Road, denied any involvement.