Woman arrested at Dublin airport over suspected cocaine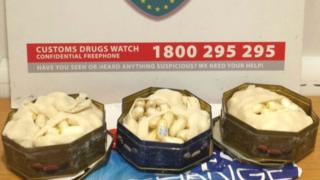 A woman has been arrested at an Irish airport after cocaine with an estimated street value of 260,000 euros (£208,250) was seized.
The 39-year-old from Portugal had arrived in Dublin on a flight from Dubai on Sunday.
Police and customs officers found 3.8kg (8.37lb) suspected cocaine in three confectionery tins when the woman was stopped and questioned.