Hope House respite centre in Whitehead gives cancer patients a much needed boost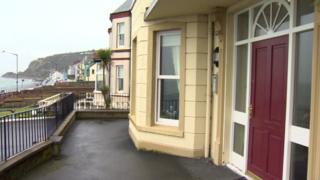 A County Antrim couple who both battled cancer have set up a rest and recuperation centre for adults with a cancer diagnosis in the seaside town of Whitehead.
The idea for Hope House Ireland came to Roy and Dawn McConnell while Roy was receiving treatment for non-Hodgkin's lymphoma.
A friend offered them the use of a seaside apartment and for Roy and Dawn the short break away from home life and treatment gave the couple a "huge lift".
Dawn said that it was then she realised there was no where for adults to go to help with their recovery.
"If your child is sick, then there was Daisy Lodge, if you were a teenager there was Clic Sergeant, but for an older adult there wasn't anything that you didn't have to pay for," she said.
Dawn said that after a cancer diagnosis "you're watching your finances, your income goes down and you don't know how long a person is going to be out of work for and the last thing you can afford to do is to go away on a break".
The couple couple decided to do something about it and began fundraising three years ago.
They raised enough money to rent an apartment on Whitehead's seafront and are now looking into buying the property.
The two bed apartment is available to rent free of charge for short breaks and also as a base for people who have to travel to Belfast's City Hospital for treatment.
The Larne to Belfast train line stops at Whitehead and at Belfast's City Hospital.
For Bill and Pat Reid, short breaks at Hope House Ireland have given them a lot more than than a change of scenery.
According to Pat, Bill's diagnosis of lung cancer has been tough on both of them.
"Bill being diagnosed with cancer, it is not one that has the diagnosis, we both have the diagnosis," she said.
Staying at Hope House Ireland "has given me an inner strength. It is a hide away. It is our time together. It is our time away from the hustle and bustle".
Hope House Ireland has also given peace of mind to those left behind after a loved one dies.
Siobhan O'Hagan's brother Hugh died eight months ago and she believes Hope Hope gave her brother space to come to terms with his diagnosis and to enjoy time alone.
"It was time away from his own surroundings, with all the turmoil of hospital appointments and the uncertainty of what was happening," she said.
"Staying at Hope House gave him a new perspective on his illness, time away to think and to do what he liked to do, read books and go for walks and things.
"The peace and tranquillity of it all was the main thing that he got out of it."
The facilities at Hope House Ireland must be booked in advance.