SDLP leader Colum Eastwood overpaid his student loan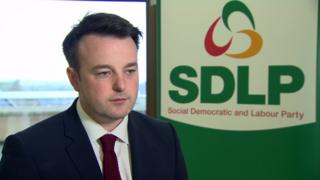 The decision by SDLP leader Colum Eastwood to publish his tax returns has saved him more than £700.
That is how much he overpaid the Student Loans Company to cover money which he had borrowed 16 years ago.
He only discovered the mistake when he put his tax details in the public domain this week.
They showed that more than £2,000 was taken out of his assembly salary for student loan repayments.
He has contacted the loan company and was told the money would be repaid into his account.
The SDLP leader said he plans to put the money towards his election expenses.
It is understood Mr Eastwood took the loan out while studying at the University of Liverpool in 2001.
The documents also show the SDLP leader paid £6,231 in tax on his assembly salary of £41,168.
Claims
Alliance leader David Ford has also published his tax returns.
They show that he paid tax on his salary of £86,000.
The returns also show that he paid an office expenses bill of just under £60,000 and claimed £200 for heat, light and use of his home phone for assembly and ministerial duties.
The Deputy First Minister, Martin McGuinness, has also published his tax dealings.
He paid more than £37,000 in tax in the 2014-15 financial year on his Stormont salary of £111,600.
The tax return shows that Mr McGuinness received nearly £61,900 in benefits and expenses - which refers to his assembly MLA allowances.
Mr McGuinness's calculation indicates that in the year to April 2015 he overpaid income tax by £462.
Sinn Féin said the deputy first minister does not take his full salary and that instead Mr McGuinness is paid an industrial wage and gives the remainder to the party.
'Allowance'
The TUV leader, Jim Allister, published his tax returns on Monday night and they show he paid just over £8,301 in tax on his assembly salary of £45,616.
But the paperwork also reveals that some of his salary - just over £4,000 - was used to pay his office staff.
He said the allowance of almost £69,000 in office expenditure was not sufficient to meet his full staff cost.
The Alliance leader, David Ford, will be the last of the political leaders to publish his tax returns later on Tuesday.
On Monday, First Minister Arlene Foster released her tax return for 2014-15, showing she earned £78,200, and paid £20,500 in tax.
Ulster Unionist leader Mike Nesbitt issued his tax return, revealing that he paid £10,600 of tax on £52,600 of income.
Green Party leader Steven Agnew also published his tax calculation.
The move by the political party leaders in Northern Ireland follows the release of Prime Minister David Cameron's tax records after the Panama Papers leak.