Francis Rowntree: Ex-Army officer's regret over boy's shooting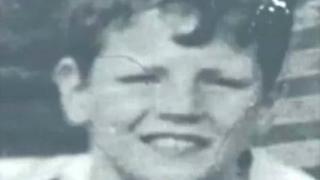 The man in charge of the Army unit which fired a rubber bullet at an 11-year-old boy which led to his death has expressed regret to his family.
Francis Rowntree, 11, was shot by a soldier in west Belfast in 1972.
Retired Lieutenant Colonel Trevor Veitch directly addressed family members who have been attending the inquest.
He told them: "It's extremely sad what happened and clearly I regret it."
"I regret it's taken 44 years for the family to get the information they were seeking," he said.
"I hope the information given to the family makes it clearer and more acceptable."
He was responding to counsel for the Rowntree family who told the inquest that evidence indicated Francis was "hit directly by a bullet, that he wasn't rioting, there was no rioting going on in the vicinity and he died as a result of being hit by a rubber bullet".
Mr Veitch said he was "convinced we were under threat" that day.
But the Rowntree family's counsel said "but you have told this inquest you have no memory of that day?"
"No, no memory at all," he said.
Asked about allegations of rubber bullets being tampered with, Mr Veitch said "it's a horrible idea".
"I can't believe it happened within my unit but then I don't see everything that goes on," he told the inquest.
"I have never ever experienced tampering with ammunition."
Mr Veitch was asked by counsel for the Ministry of Defence (MoD) what sort of man Soldier B, the man who fired the rubber bullet at Francis Rowntree, was.
He was "calm, very calm.. I never saw him lose control".
'Persuasive'
He was then asked if he was level-headed, to which he replied, "yes".
Mr Veitch said he was not the "typical sergeant major who orders by fear .. he was persuasive and led by example".
Counsel for the MoD described the time when Francis Rowntree was killed as one of the "darkest years of the Troubles".
He informed the inquest that there were 496 deaths in 1972 and Mr Veitch accepted it was "a harrowing time".
He said the regiment of which he was a part, the third Battalion Royal Anglian, lost eight soldiers in 1972 and experienced 17 fatalities during the Troubles.
He was asked about the days leading up to the shooting of Francis Rowntree.
On 19 April, (a day before Francis was shot), there were eight or nine shootings directed towards troops in the Divis area, before teatime.
Mr Veitch agreed with counsel for the MoD that "violence was intense and around the clock".
He said there was "serious rioting" on 19 April.
Outside the court, the schoolboy's older brother, Jim Rowntree, said he would have preferred the ex-Army officer to have said sorry.
He said: "Regret and sorry are two completely different words. You can say you regret it is raining but you don't say you are sorry for it."