PIPS: Man arrested after windows smashed at north Belfast charity office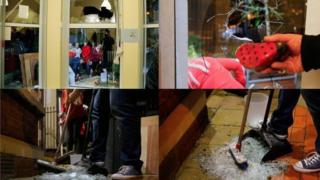 A man in his 40s has been arrested after the windows of a suicide prevention charity's offices in north Belfast were smashed during an attack.
The incident happened at the offices of Public Initiative For Prevention of Suicide and Self Harm (PIPS) on the Antrim Road on Wednesday night.
Police said that at about 20:25 BST it was reported that a man was smashing windows of the premises.
A man was arrested and is being treated in hospital for a head injury.
PIPS said it would be open for business from 09:00 BST on Thursday, despite the attack.
It had made an appeal on Wednesday night for help in replacing glass and securing the Antrim Road premises.