Michael McGibbon murder: Man arrested over alleyway gun attack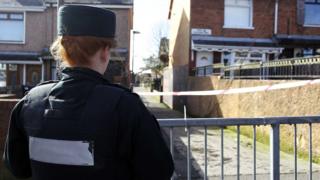 A man has been arrested over the murder of a man who was shot in the legs in north Belfast on Friday night.
Michael McGibbon died after an attack in an alleyway at Butler Place, with police saying his killing carried the hallmarks of a paramilitary murder.
A 34-year-old man has been detained on suspicion of murder and is set to be questioned at a Belfast police station.
A priest, Father Gary Donegan, has told of how Mr McGibbon's wife tried to save his life when she arrived at the scene.
Mrs McGibbon, who is a nurse, came to his aid shortly after the shooting.
Masked
"Not only to lose your husband but to be the first person to give aid must be doubly traumatising," Fr Donegan told BBC Radio Ulster's The Sunday News.
"The first response to his aid is actually his wife and [she] probably kept him alive for the length of time that he actually remained after the shooting."
Police have said Mr McGibbon had contacted them to inform them that two masked men had arrived at his house on Thursday evening.
The men asked him to come out of the house but he refused, and they told him they would return.
Mr McGibbon's murder had been referred to the Police Ombudsman for Northern Ireland.
Traumatised
The 33-year-old had a young family, and Fr Donegan said the murder had "destroyed" that family unit.
"From the highest heavens, people cannot condemn it enough," Fr Donegan said.
"When the headlines disappear and we disappear to some extent, they are going to be left with this for the rest of their lives.
"[This happened] in an area that has experienced the largest loss of life in the Troubles - prior to this, 99 souls had died.
"Does he make the hundredth now? That's a horrible statistic.
"This is community traumatised again."