Michael McGibbon murder: Prominent dissident republican released unconditionally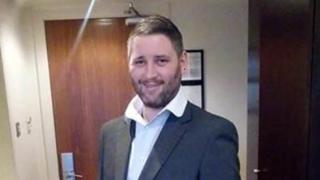 A 34-year-old man who was being questioned over the murder of a man who was shot in the legs in north Belfast on Friday night, has been released.
Michael McGibbon, 33, died after an attack in an alleyway at Butler Place, with police saying his killing carried the hallmarks of a paramilitary murder.
It is understood the man arrested was prominent north Belfast dissident republican Dee Fennell.
He has been released unconditionally.
Mr McGibbon was married with a young family.
A priest, Father Gary Donegan, told the BBC's Sunday News programme how Mr McGibbon's wife tried to save his life when she arrived at the scene.
Mrs McGibbon, who is a nurse, came to his aid shortly after the shooting.
Police have said Mr McGibbon had contacted them to inform them that two masked men had arrived at his house on Thursday evening.
The men asked him to come out of the house but he refused, and they told him they would return.
Mr McGibbon's murder had been referred to the Police Ombudsman for Northern Ireland.