Almost 800 children still waiting for pre-school places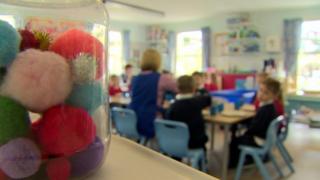 Almost 800 children face a further wait to find out if they will get a pre-school nursery place this September.
According to the Education Authority (EA), 22,219 children have had their pre-school place confirmed, and 790 children have still to be placed.
More than 96% of children whose parents applied were offered a place in one of their preferred schools or nurseries.
Letters confirming which pre-school provider children will attend have been delivered to parents
Demand for funded pre-school places has risen in recent years.
There are a number of criteria to help schools decide which children to admit.
Legislation issued by the Department of Education (DE) requires providers to give preference to children from socially-disadvantaged circumstances.
This is defined by DE as "a child whose parent is in receipt of Income Support or Income-Based Jobseeker's Allowance."
Board of governors then set further criteria for schools including things like whether a child has had a sibling at the school, or how far away a child lives.
Karen McFall from Downpatrick has so far failed to gain a pre-school place for her daughter Jenna.
"Jenna didn't get into any of the four schools that I selected," she said.
"I just feel that people that are working get discriminated against."
"This is the second time that this has happened to me."
"My first child also didn't get into a school in Downpatrick and my parents had to drive every day to take her to a school in Crossgar."
"I think it's an absolute disgrace, it's just so unfair."
In a statement, DE said that giving children from disadvantaged circumstances priority in pre-school admissions was important.
"Research has shown that children from socially disadvantaged circumstances tend to experience more difficulty at school than other children, so they are given priority in the pre-school admissions process as part of wider efforts to tackle educational underachievement."
Parents who have not got a place for their child so far can now apply again to providers who still have vacancies.
A spokesperson for the EA said that the admissions process was not yet complete.
"For the vast majority of parents, this process works well," they said.
"I understand that there will also be disappointment as a number of children will not have been placed at this stage."
"If you have not been offered a place, please review the list of providers with available places and engage in Stage 2. There is every chance you will be successful but you must stick with the process to the end."
Letters on the outcome of the second stage of the application process will be issued to parents on Friday 3 June 2016.