Lord Ballyedmond: Family wealthiest in NI again, Sunday Times suggests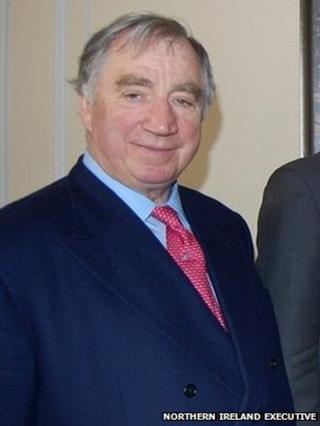 The family of the late industrialist Lord Ballyedmond are the wealthiest people in Northern Ireland, the Sunday Times rich list has suggested.
The newspaper estimates the wealth of Lady Ballyedmond and her family at £1.4bn.
They have topped the Northern Ireland rich list three years in a row, ranking 75th on the UK and Ireland-wide list.
Lord Ballyedmond, Edward Haughey, died in a helicopter crash in Norfolk in 2014.
He was the founder of the pharmaceutical firm, Norbrook Laboratories.
The family are only the second from Northern Ireland to have been classified as billionaires by the rich list. The first was the family of Sean Quinn, though they have now lost much of their fortune.
This year there are several new additions to list, with Belfast-born property developer Paddy McKillen ranking eighth.
McKillen, who now lives in south Dublin, was at the centre of a high-profile legal battle with twins Sir David and Frederick Barclay over the control of three top hotels in London in 2012.
Another new entry is County Londonderry civil engineer Eoin McCann and his family, who ranked 16th place with an estimated wealth of £110m.
He is the managing director of Magherafelt engineering firm FP McCann.
The other people in the top five are the actress and producer Roma Downey - the fortune she shares with her husband, Mark Burnett, is estimated at £375m.
Brothers Paul and Jeremy Eakin and their families ranked third in Northern Ireland, with a fortune put at £310m. Their TG Eakin medical supplies company is based in Comber.
In fourth place, is Dr John King, former lecturer at Queen's University Belfast, who made more than £18m from the takeover of pharmaceutical firm, Warner Chilcott. His wealth is estimated at £190m.
The fifth person on the list, and dropping from fourth place, is Danny Hill (£183m) who is originally from Belfast, but moved to Australia more than 50 years ago. He made his money in mining and property.
The other notable name on the list is Dr Peter Fitzgerald, of the County Antrim company, Randox Laboratories. Having made the list for the first time in 2015, he moved up the list this year to 11th place, with a fortune of £125m.