EU referendum: Ballymena businessman William Wright helps front Brexit campaign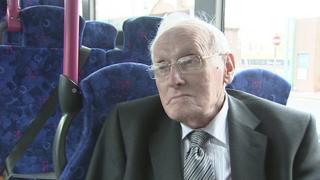 The owner of one of Northern Ireland's biggest companies is to help front the local campaign to leave the EU.
William Wright of Wrightbus said immigration had convinced him the UK was better off going it alone.
In a reference to the decision of JTI Gallager to close its cigarette plant, he claimed EU regulations had cost Ballymena close to 1,000 jobs.
Mr Wright also claimed the area had had a recent influx of people from Eastern Europe.
Earlier this month, the boss of Bombardier in Belfast told its staff it would be better for the company if the UK remains within the EU
The Northern Ireland Stronger In Europe campaign will wait until after 5 May's assembly election before holding its launch.
The EU referendum will take place across the UK on Thursday, 23 June.