Gorse fire still burning in south Armagh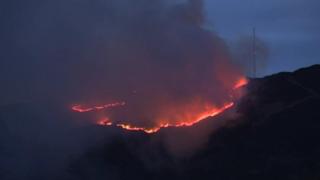 A gorse fire in south Armagh is still alight almost a day after it broke out.
Black smoke was seen billowing from Slieve Brack mountain above Forkhill from about 20:30 BST on Sunday.
The Northern Ireland Fire and Rescue Service said the blaze was inaccessible and was left to burn out.
On Monday evening, the NIFRS said "a small fire" remained and an officer was attending the scene to assess the situation.
A spokeswoman added that because there was no risk to life or property, it was not sending firefighters to the incident, but that they would continue to monitor the situation.
"The fire is significantly smaller than the fire last night and the wind direction is now blowing the smoke in a north-westerly direction, up over the top of the mountain," she said.
"There is no smoke impact to any properties at present."