Chernobyl: Northern Ireland victim recalls disaster on 30th anniversary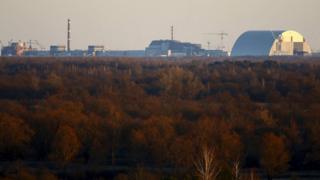 Thirty years ago, an accidental explosion at the Chernobyl nuclear plant caused devastation in what was then part of the Soviet Union.
It shocked a world that was fearful of the spreading radiation.
It had catastrophic consequences for the local population, forcing a mass evacuation from the surrounding area.
Nearly 50,000 people had to leave, including Julie Bond, a student from Northern Ireland who was studying in the country at the time.
Originally from County Antrim, she was learning Russian in the Ukranian city of Kiev, just 30 miles from the explosion in Chernobyl.
However, Julie says she was not told about the nuclear accident until two days after it happened.
"We were in our room and another girl who was with us came and banged on the door, rushed in and said there'd been a nuclear explosion and closed the window," she told the BBC.
"It turned out someone's parents had phoned from the UK inquiring about us, but that was the first we'd heard about it."
With the Soviets trying to downplay what had happened, the then British prime minister, Margaret Thatcher, was among those insisting the UK students returned home as quickly as possible.
Julie said the lecturers at Surrey University, where she was studying languages, were concerned and contacted the UK government.
Cancer
The students were then sent home on a special British Airways flight as the result of a "direct order from Margaret Thatcher," according to Julie.
"When we got into Heathrow, we had a complete health check.
"Some of our clothing was removed, including my jumper, because it read over 100 on the Geiger counter, that measures radiation.
"We were all told that we were fine, but that perhaps it might be a good idea to have a health check in five or 10 years."
Julie, who is originally from Antrim town, now lives in County Wicklow in the Republic of Ireland.
'Medical curiosity'
In the years since the Chernobyl disaster, she gave birth to three children and had her thyroid removed because of cancer.
Her son Ricky has Down's Syndrome, and despite what the medics say, she suspects it may be too much of a coincidence.
"Back then, when I had my thyroid removed in 2002, the surgeon said to me that they weren't able to tell whether the cancerous thyroid was caused by radiation or whether there was another reason.
"The oncologist [cancer specialist] was very dismissive of the Down's Syndrome. He said it was stuff of nonsense, that loads of people have children with Down's Syndrome.
"I think medics seem to be very quick to say it's nothing, which is great if it's not, but I don't know if that's true."
Sitting in the sunshine in her garden with the Wicklow mountains not too far in the distance, Julie says it has always surprised her that no-one in the medical profession pursued what happened subsequently to her and her fellow students.
"I just think there should have been a follow-on, even out of medical curiosity," she said.
"I'm surprised they just let us all drift off. I've never tried to contact the others and they've never tried to contact me, which is a shame.
"I did try to contact the university a few years ago, but the department I did my degree in is no longer in existence, so there was no-one in any position to help at all."
Julie is almost certainly not alone in believing it could be a while yet before we know the true health consequences of the Chernobyl nuclear disaster.