Rowntree inquest: Soldier no concerns about his actions on day of shooting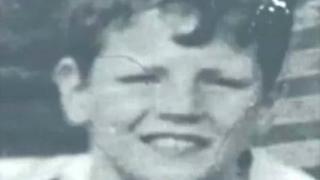 A soldier who fired the rubber bullet which killed an 11-year-old boy in west Belfast in April 1972 has said he had no concerns about his actions on the day of the shooting.
"Soldier B" was giving evidence at the inquest into the death of Frank Rowntree.
When asked, he told the inquest: "I don't have any concerns. I was doing my job, as we did all the time."
The Rowntree family were banned from viewing an image of the soldier.
After a ruling by the coroner, the family's seats were moved in the courtroom so they could not see the screens on which "Soldier B" was giving evidence by video link.
Francis Rowntree, known as Frank by his family, died in the Royal Victoria Hospital two days after being hit - on 22 April, 1972.
Soldier B said he had no specific memory of the day Frank Rowntree was shot.
He heard a statement read out that was given by him at the time and said it must be true because he had signed it.
He already had 17 years' service at the time of the shooting in 1972, but added that this was his first tour of duty in Northern Ireland.
In the statement, Soldier B told how he was sitting with others in an Army vehicle parked near Divis Tower while Royal Engineers cleared the road.
He described how a group of youths, aged seven to 20 years old, were throwing missiles and gelignite bombs at his position.
He said that because the crowd was close to the vehicle he decided to fire a baton round.
The first round struck a lamppost and bounced away he said, so he fired a second at the centre of a crowd of youths and saw someone fall.
Fading memory
Later, he said, he saw an ambulance come for the person who had been taken to a nearby building.
On his fading memory of the time, he repeated to a barrister for the coroner that he could not remember the specific day Frank Rowntree was shot, pointing out that it was 44 years ago.
"It seems lame to say so, but it was just one of a series of incidents throughout the tour," he said.
His tour of duty in Northern Ireland started in mid-April 1972 and lasted for more than four months.
He was stationed at Albert Street Mill.
He could not recollect any training in the use of baton rounds before his deployment.
Nor could he recall the specific rules of engagement given to him at the time.
He said his company fired 24 baton rounds that day, and that 16 shots had been fired at the security forces.
He agreed that it was not always easy to fire a baton round out of the Army vehicle.
"It was a bit difficult, but the task could be mastered," he told the inquest.
He remembered that he used the Federal Riot Gun to discharge baton rounds during his tour but only when it was issued to him on a particular patrol.
Several times Soldier B pointed out the gaps in his memories of 44 years ago.
"I'm sorry," he said, "I can't come up and say I remember this incident."
He denied ever having encountered a doctored rubber baton round or firing one.
Denial
"I had no experience of them and I certainly detected none," he said.
Asked if he had ever doctored one, he said: "Definitely not."
There have been allegations that the baton round which struck Frank Rowntree had been doctored to include a used battery.
It emerged that Soldier B was a company Sergeant Major at the time and had held the rank for over two years.
Later he was asked about firing baton rounds at groups of people which may have included innocent people and children.
He explained that often his vehicle was being pelted with every type of missile.
"There may have been women or children in that crowd, but that's not what you're seeing," he said.
"Your life is at risk. Your comrades are at risk."