Undercover soldier's family launch legal challenge against his exclusion from police investigation into Army unit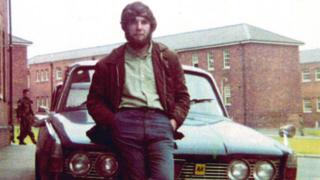 The family of an undercover soldier killed by the IRA have launched a legal challenge against his apparent exclusion from a police investigation into the controversial Army unit he worked for.
The PSNI's Legacy Investigations Branch (LIB) is examining the actions of the Military Reaction Force (MRF) following claims it carried out unjustified shootings during the Troubles.
Relatives of Sapper Ted Stuart, 20, insist his murder should be brought into the wider investigation.
Mr Stuart's family have launched a court bid against the PSNI.
The soldier, from Strabane, County Tyrone, was working undercover for the MRF in the republican Twinbrook area of west Belfast in October 1972 posing as a laundry van driver.
He was shot and killed by the IRA when his cover was blown.
The LIB is currently investigating the killings of west Belfast men Patrick McVeigh, 44, and Daniel Rooney, 18, in separate incidents in 1972 and a series of other shootings in Belfast in that year.
On Tuesday, an initial hearing at Belfast High Court to seek a judicial review into the PSNI's approach was adjourned until September, when the substantive arguments will be laid before court.
The investigation into the MRF by the LIB was triggered after a referral by Northern Ireland's Director of Public Prosecutions Barra McGrory.
Kevin Winters, representing the Stuart family, said it was important relatives of British soldiers killed in the conflict were properly acknowledged in legacy investigations.
"There can be no hierarchy of victims and this application is an important marker in the rights of the families of British soldiers - the right to have the deaths of their loved ones investigated and the right to have their employers - in this instance the MoD - held to account for any failure to protect those in its employ," he said.
"The murder of Ted Stuart in circumstances which are contested requires investigation.
"The referral by the DPP to the PSNI regarding the activities of the unit in which Ted Stuart was serving - the MRF - is important and we maintain that Ted Stuart's murder must be part of that investigation."