Mountain fire in south Armagh treated as deliberate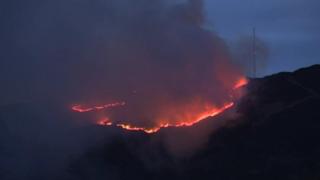 A fire which spread across a mountainside in south Armagh for two days is being treated as deliberate.
The blaze started on Slieve Brack mountain near Forkhill on Sunday.
Fire fighters had to let the fire burn because it was in an inaccessible part of the mountain.
They received a call late on Monday night to say the fire had flared up again. It was eventually put out by fire fighters using beaters.
A spokesperson for the Fire and Rescue Service (NIFRS) said that due to the "difficult terrain and the thick vegetation" firefighters had to wait until the fire moved down the mountain and it reached a point which was safely accessible and where the vegetation was not as dense".
The fire fighters worked through the night, eventually putting the fire out about 05:00 BST.