Lurgan alley fire spreads to two houses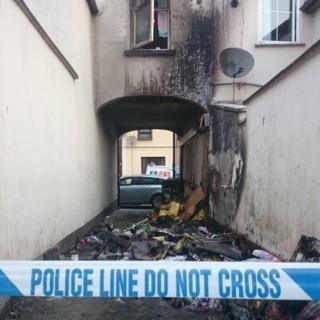 Police have said an arson attack in Lurgan, County Armagh, in the early hours of Friday could have resulted in a row of houses catching fire.
A large amount of rubbish and furniture was set on fire in an alleyway in Victoria Street in the town shortly after 05:00 BST.
The fire spread and caused damage to the back of two terraced houses.
A woman and two children in the house closest to the fire were able to get out by themselves. No-one was injured.
The houses sustained scorch damage and it is believed that part of the floor of a child's bedroom collapsed.
Police said the prompt action of firefighters stopped the blaze from spreading further.
"There is no doubt this was deliberate, started in an alleyway between houses, and we are very keen to get speaking to a male, described as wearing blue jeans and a dark jacket, possibly holding a carryout, in the area of William Street and Victoria Street around 5am this morning," police said.
"Thankfully, nobody was hurt during this incident. Neighbours looked out for each other and woke pretty much the whole street to make sure everyone was safe."
Police want anyone with information to contact them.