Frank Rowntree death: Witness 'saw no reason for shooting'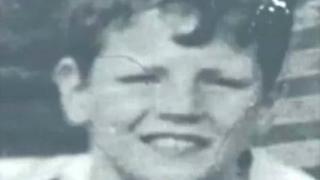 A witness has told the inquest into the death of a west Belfast child that he could see no reason for a soldier to fire a rubber bullet at the boy.
Frank Rowntree, 11, died two days after being hit by the bullet in April 1972.
Noel Loughran said he was walking home from work past Divis flats when he saw about seven young children throwing stones at an Army vehicle.
He said after they threw them they would go to the back of the vehicle to pick up the stones to throw them again.
It was while that was happening he said he noticed a soldier point a rubber bullet gun out of the vehicle.
"The gun pointed down in the direction of the child and went bang," he said.
"The child went completely off the ground with his legs and feet pointing up towards the sky before he fell back to the ground."
Mr Loughran was asked by a lawyer for the Rowntree family if the children posed any danger to the soldiers in the vehicle.
"There was absolutely no threat. They were only small children. They were only throwing stones," he said.
Mr Loughran was giving evidence for the first time.
He said he was so shocked at what happened on that day he had never told anyone about it until now.
The inquest is due to resume again later on Friday.