Mary Dowds death: Care home fined for health and safety breaches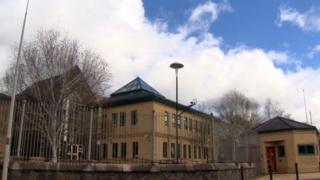 A care home firm that was brought to court over the death of a resident has been fined thousands of pounds for health and safety breaches.
Mary Dowds died suddenly at Maine private nursing home in Randalstown, County Antrim, on 8 April 2013.
She was found dead in a chair that had been fitted with a type of safety belt.
Antrim Crown Court was told the firm had been warned in 2008 about the danger of patients slipping down or out of the chair but had not trained staff.
A prosecution lawyer said the chair was provided with a strap which was referred to in a number of ways, including a lap or safety belt, or "pelvic positioner".
A defence barrister said that reports into the death indicated that Ms Dowds may have suffered a cardiac arrest before being caught up by the strap.
'Specific warning'
Maine private nursing home is operated by McGoldrick Enterprises Ltd, a firm run by directors Ian and Mary McGoldrick.
Their firm was originally charged with corporate manslaughter following the death of Ms Dowds, who had lived at the care home for more than 20 years.
However, after the firm pleaded guilty to breaching health and safety legislation, the corporate manslaughter charge was not proceeded with but has been "left on the books".
The judge told the company's directors that his impression of them was of a caring, conscientious couple and described it as an immensely sad case.
However, he said it was a tragedy that a specific warning over the use of equipment given years earlier was not passed on to care home staff.
A defence barrister described his clients as decent, hard-working people whose reputation had been destroyed over the past two years.
He said their firm had co-operated fully with the investigations into Ms Dowd's death and admitted the health and safety breach from the outset of the prosecution.
The judge imposed a £10,000 fine and also ordered the firm to pay costs of more than £8,000.