Gregory Campbell: MP refuses to apologise for "failed hunger striker" comments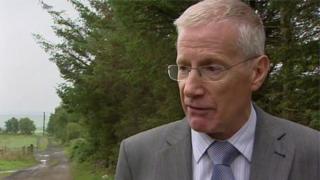 The DUP MP Gregory Campbell has refused to apologise for calling a Sinn Féin MLA "a failed hunger striker".
Sinn Féin had called on him to withdraw the comments he first made on Facebook about Raymond McCartney.
The former republican prisoner was elected to represent Londonderry's Foyle constituency on Saturday.
Speaking to BBC Radio Foyle on Monday, Mr Campbell said it was nothing he had not already said before.
"There is a link which is available which shows an interview by Raymond McCartney when he was on hunger strike.
"He said, 'we are going to go through with this and we are prepared to die'. He didn't go through with it and he didn't die.
"What does that mean? It means that he's a failed hunger striker," said Mr Campbell.
Raymond McCartney took part in a hunger strike in 1980.
Sinn Féin's Pat Sheehan has called the remarks "vile and disgusting".
However, DUP MLA Christopher Stalford said the comments were a "throwaway, jokish remark".
Mr Campbell first made the remarks on Facebook writing that he was "breaking the habit of a lifetime to send best wishes to Raymond McCartney".
"Because he's a bit more successful at electioneering than he was at hunger striking," he added.
Mr Sheehan, who was also a hunger striker, said the East Londonderry MP should "withdraw his remarks immediately".
That call was echoed on BBC's Sunday Politics programme by Sinn Féin's John O'Dowd, who also called Mr Campbell "a fool".
"I think in this era they should be withdrawn.
"We're talking, ourselves and the DUP, about going into discuss a programme of government and having mutual respect, mutual trust and mutual understanding within that.
"But Gregory Campbell is a fool, and he's away to Westminster to retire.
"And I wish him well staying over there out of the road."
He said that Mr Campbell was a "loose cannon in the DUP" and he "doesn't represent" the vast majority in the party.
Mr Stalford said that the reaction to Mr Campbell's comments included a "lot of contrived anger".
"I think if the worst that Gregory Campbell does to a Sinn Féin representative is insult them, there are people from a republican background who have done a lot worse to Gregory Campbell over the years and I include attempts to murder him and his family."
He added that if Mr Campbell was a fool "he would not have been elected so many times by the people of the East Londonderry constituency".
The Alliance Party's Naomi Long said the comments were "childish and pathetic".
"I genuinely think that it is time that Gregory stops trying to be funny because it falls flat on every occasion," she said.
"Frankly, somebody should take over his social media account and I would give the same advice to a lot of other politicians, including Gerry Adams over the last while.
"Somebody needs to manage their accounts because when they go on these outbursts they do politics no service."
The East Londonderry MP said that some people "just want to create a controversy".
"They can call (on me to withdraw comments) as much as they like, people who have refused to apologise for a terror campaign killing people for 30 years.
"Thankfully now its over, thankfully they've moved on and we all need to move beyond that," Mr Campbell said.