Londonderry: Sean McVeigh charged over bomb under policeman's car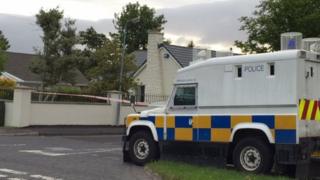 A man has appeared in court charged with attempted murder after a bomb was left under a police officer's car in County Londonderry last year.
A device was found in Glenrandel, Eglinton, on 18 June. Police said it was a "clear attempt" to kill officers.
Sean McVeigh, 35, from Victoria Street in Lurgan, County Armagh, is also accused of possessing semtex explosives with intent to endanger life.
He was arrested in Portadown on Saturday.
The defendant made no reply as the charges were read to him at Londonderry Magistrates Court on Monday.
A detective constable told the court that she could connect the defendant to both charges and to the evidence in the case.
Mr McVeigh's defence solicitor said: "There is no forensic evidence."
He also told the court there was "no DNA evidence linking the defendant to Eglinton".
The district judge told the Public Prosecution Service to disclose an expert's report to the defence prior to a bail application being made.
The defendant was remanded in custody until 16 May.