NI Assembly election: Former submariner Steve Aiken surfaces at Stormont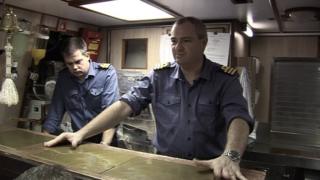 It was all smiles at Stormont on Monday morning as newly-elected MLAs gathered at Parliament Buildings to be met with a barrage of photographers and media interviewers.
For some it was a return to the familiar, while for others it was akin to first day at school.
Twenty-nine MLAs will take up seats in the Northern Ireland Assembly for the first time after last week's election.
Among them is a former commander of a nuclear-powered submarine.
Steve Aiken was elected for the Ulster Unionist Party in South Antrim.
The Ballyclare man featured in a BBC television documentary 11 years ago about his last tour of duty in command of a Royal Navy sub.
At that time a career in politics was the last thing on his mind.
But as he found himself with his party colleagues posing for photographs on the steps of Stormont, it was clear it is now a reality.
"I feel quite humble and quite privileged," he said.
"It's a magnificent building with a magnificent bunch of people in it
"It's a fantastic day and we've had a great opportunity to talk to each other and get ready for the forthcoming business ahead of us."
With a naval career spent under the waves living in close proximity to the rest of the crew, the experience of walking through the revolving doors of Stormont into the much less confined space of the Great Hall was a major transition for the former sub commander.
"It's extraordinary the sense of space and light that we have in the building here, whereas in a submarine it was somewhat more constrained.
"The great thing about Parliament Buildings is also the people. That's what made submarine service such a great thing."
Mr Aiken says he is looking forward to entering into the assembly chamber and debating the issues that matter to him and his constituents.
"There's a lot of things we need to be working towards - improving the economy, education and the health system," he said.
"And we actually need to see how we're going to get some joined-up government for once."
There is one major difference for the former submariner - when he was a Royal Navy commander he had absolute power on board.
So how does that sit with him now having to deal with a party leader, other MLAs and the politics of persuasion?
"It's an enormous mind-shift for a submariner.
"However, nobody ever talks about the five years I spent in Whitehall doing battle with the Treasury.
"The opportunity to take some of those skills and build them into what we're doing now is great," he added.
As a naval commander, Mr Aiken was answerable to his immediate superiors and now he has a constituency to answer to.
"The people I am now answerable to are those living in south Antrim," he said.
"The election count was the first I'd ever attended and to see all those votes coming in with a number one against the name Aiken made me suddenly realise I'd an awful responsibility for those people."