Jack Boothman: First Protestant president of GAA dies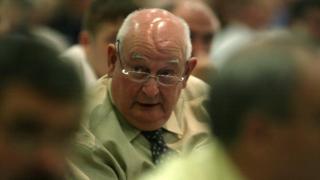 Jack Boothman, the first Protestant president of the Gaelic Athletic Association (GAA), has died.
The County Wicklow man served a term as the head of the association between 1994 and 1997.
He pressed for the abolition of rule 21, which banned members of the British security forces from joining the GAA.
Seán Kelly, another former president, said the Blessington clubman took up the role "at a time when people didn't cross political divides much".
Background
"That was an indication of the status in which he was held within the association," Mr Kelly said.
"If you had gone back 20 or 30 years before that, you would say there was no way somebody with that background would become president of the GAA."
The GAA, which governs gaelic games in Ireland, scrapped rule 21 in 2001.
Moves to lift the rule were widely supported in the Republic of Ireland, but Down was the only Northern Ireland county to vote for removing rule 21.
Attitudes
Mr Boothman's desire for the GAA to embrace everybody on the island helped to bring about the change, according to Mr Kelly.
"He worked very closely to make our games and our association broader, and to end any discrimination that existed, which was, in one sense, what people saw rule 21 doing," he said.
"His quiet work in the background, where he did most of the work, brought the Ulster Council with him and they brought their members with them.
"Then attitudes changed, and those who were maybe reluctant in the beginning had such respect for Jack and that created a more positive attitude and a broader view within the association."
Notions
Mr Boothman had also done much to "popularise gaelic games" and was one of the first presidents to become "really close to the players".
"At a time when maybe many of the players felt they were being taken for granted he began to see there was need to give more support to make sure they were treated properly," he said.
"That set the standard by which we followed on and has now become the norm.
"There were no big notions in Jack - he was able to gain confidence of people very easily and people respected his integrity."
The Deputy First Minister Martin McGuinness also paid tribute to Mr Boothman.
He said: "My thoughts and prayers are with the family of Jack Boothman at this difficult time.
"Jack Boothman was a GAA president who, through his actions, left an indelible mark on the GAA.
"I was very privileged to meet Jack at many GAA events. Jack was a gentleman and I always found him to be very warm and courteous.
"He was a proud GAA man and his family and club Blessington GAA in Wicklow will be rightly proud of his many achievements at local and national level."