Former Ace Bates Skip Hire directors fined £1,000 each and company faces £200,000 order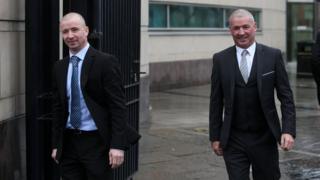 A Belfast skip hire company has been issued with a £200,000 confiscation order and two of its former directors have been fined for waste offences.
Thomas Bates, 46, and his brother Gary, 44, were directors of Ace Bates Skip Hire Ltd until October 2013.
Along with their company, they had been accused of 15 waste offences and non-payment of landfill taxes charges.
They pleaded guilty to four charges and on Tuesday, the judge issued a £200,000 confiscation order.
Ace Bates Skip Hire was ordered to pay an additional £100,000 to cover the costs of both an investigation by the Northern Ireland Environmental Agency and the prosecution costs.
In addition, the company was fined £20,000 on each of the two offences it admitted. The judge also fined the Bates brothers £1,000 each.
In January, both brothers, of Ballysillan Road and Upper Crumlin Road, and the company, pleaded guilty to the unlawful deposit of waste, while the company also pleaded guilty to keeping controlled waste in a manner likely to damage the environment or human health.
The offences were committed on dates between May 2005 and August 2011 at land owned by the brothers at Ballyutoag Road, Belfast, and also on land belonging to a neighbour.
In the Crown Court on Tuesday, the judge said that whilst she accepted the company's actions were not deliberate, it was nonetheless "reckless in the sense there was a failure to put in place and to enforce such systems to avoid commission of the offence".