Matthew Goddard murder: second Turner brother pleads guilty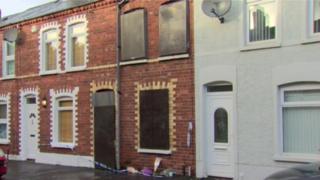 A 30-year-old Belfast man has joined his older brother in prison to await sentencing for his part in the murder of a 41-year-old man in 2014.
Matthew Goddard was found dead in his home in Chobham Street, east Belfast, on Christmas Eve of 2014.
On Wednesday, James Henry Turner pleaded guilty to his murder.
Turner, from Dunraven Court in Belfast, was due to go on trial at Belfast Crown Court, but his defence barrister asked that he be re-arraigned.
On Friday, his 37-year-old brother William Turner, from Glenlea Grove in Belfast, also pleaded guilty to murdering Mr Goddard.
'Brutal and sustained attack'
Mr Goddard was found in the living room of his home, having sustained a "brutal and sustained attack", in which he was beaten with his own electric guitar.
A third man, Christian Walker of Ribble Street, Belfast, was acquitted of the murder after the prosecution offered no evidence against him.
Walker had previously admitted perverting the course of justice by providing the Turner brothers with false alibis for the murder, and conspiring with them to hamper the police investigation into the killing.
A prosecution barrister said that in light of Walker's guilty pleas, the Crown were offering no further evidence of the murder charge in his case.
Acquitted
He added that Walker was therefore entitled to be formally acquitted by the jury of six men and six women, who were sworn in last week.
Similarly, James Turner was acquitted of attacking another man when the prosecution offered no evidence on that charge.
His brother is awaiting sentence on this charge, having also pleaded guilty.
Walker was released on continuing bail while pre-sentence reports are prepared.
All three men are due to be sentenced next month.
A defence barrister said that both psychiatric and psychological reports on Walker had already been lodged with the court.
James Turner's lawyer said he had a been suffering from a long time brain injury and that it was intended that a psychiatric report on him will also be made available to the court.