Belfast: Students and staff hold sit-in at QUB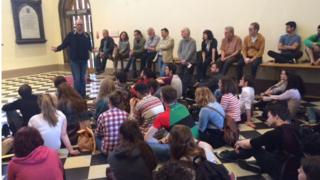 Around 100 students and university staff have held a sit-in protest at Queen's University.
It took place in the main entrance hall of the Lanyon building on the campus on Wednesday.
The protestors said that they were opposed to the outcomes of the university's 'size and shape' review.
Those plans would see A-Level entry grades for many degree courses rise to an A and two Bs.
Staff have also been set increased targets for research income, while the university wants to more than double its intake of international students.
There will also be a number of school and subject mergers, while single honours degrees in sociology and anthropology will end.
The protest took the form of a "teach in" as some university staff taking part have been delivering free lectures to students.
Dr John Barry from the school of Politics at Queen's was one of those speaking at the protest.
"Like a lot of staff, I've been concerned at the direction of travel of the university," he said.
"We talk of rebalancing the Northern Ireland economy, but we need to rebalance the university too.
"My call is for that balance and of the recognition of arts, humanities and social sciences especially."
Sean Fearon, from Queen's Students Union, helped organise the event, and said it would continue until around 18:30 BST.
"We're showing the public that Queen's are trying to introduce major changes without proper consultation," he said.
"I think a lot of the decisions being taken will damage the university.
"One of the main reasons Queen's are doing this is to increase income."
In a statement, a spokesperson for Queen's said that the size and shape review had been unanimously approved by Senate, the university's governing body.
"The review was wide ranging and complex, impacting the entire university and was developed through extensive debate and consultation," they said.
"The review identified the need to ensure the sustainability of its education and research provision, based on excellence and impact.
"There will be no compulsory redundancies arising from this comprehensive review.
"In taking forward implementation of the review's recommendations, staff and students will be fully engaged in this process."