John Caldwell: Boxing legend's statue unveiled in Belfast park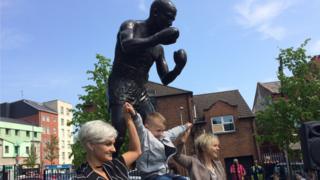 A bronze statue of Belfast boxing legend John Caldwell has been erected in the park where he played as a child.
Mr Caldwell died in 2009, at the age of 71, after a long battle against cancer.
As an 18-year-old, the west Belfast man won a bronze medal in the flyweight division at the 1956 Olympics in Melbourne.
Five years later, he clinched the world bantamweight title after beating Frenchman Aphonse Halimi.
Mr Caldwell's family, friends and boxing colleagues gathered in Dunville Park off the Falls Road for the unveiling of the statue.
His daughter Berna McStravick said she felt "very emotional" when she saw it.
"It's lovely to have my daddy's statue here.
"This is where he was from - he was born and reared on the Falls Road and he played here in this park.
"We see him as a Falls Road legend, so it's fitting that the statue is here."
Ms McStravick recalled the stories her father told her about his travels around the world representing Ireland in his sport.
"He had great memories of the Olympics and winning the bronze medal - that was his proudest moment.
"He told us about travelling to Melbourne and how exciting it was."
She said people from across Belfast and beyond still still recount stories about Mr Caldwell to her.
"In all parts of Belfast, he was well known and well respected."
Boxing coach Gerry Nugent, of the Immaculata Boxing Club where Mr Caldwell trained, said he hopes the statue will inspire young boxers.
"Boxing will always be popular in Belfast. It's just in us, in the environment. It's the close community.
"We have had a gap [in training] because our boxers all turned pro, but we've a lot of kids coming up here."
Many pundits regard Mr Caldwell as one of the most skilful boxers ever to have come out of Ireland, allied to his undoubted courage in the ring.
He was reckoned to have been exceptionally unlucky to lose his Olympic semi-final in 1956 at a Games where three other Irish boxers, including Freddie Gilroy, claimed medals.
Speaking at the unveiling, professional Boxer Joe Fitzpatrick said Mr Caldwell's was a name which figured prominently at Immaculata when he was a young boy.
He said Mr Caldwell and other boxing champions inspired him to change his path in life.
"John Caldwell is the only Olympian to come from Immaculata, so I look up to him. We all look up to champions like John.
"If it hadn't been for Immaculata, I probably would have been into drugs or joyriding, but this gave me discipline.
"I was on the wrong route, but [boxing] is the way forward."
Commission
One of Scotland's leading figurative artists, Alan Beattie Herriot, won the commission to design and build the sculpture, along with another of Rinty Monaghan which was erected in Belfast's Cathedral Gardens.
He said Mr Caldwell's old family photos gave him a sense of the man he was.
"We made a mould in this traditional boxing pose.
"It's actually larger than life-size as John was 5ft 1ins. He was about 8st 6 at one stage - I think I was that weight as a baby!
"Not only is it a great honour for John and his family, but it's been backed by the Belfast Boxing Ring and it's important that young boxers coming through can be inspired by these boxers and follow on in their footsteps."