NI Economy: Focus on employment masks other problems, PwC says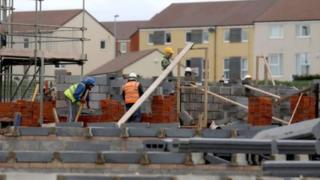 Making employment the main yardstick of economic recovery in Northern Ireland fails to acknowledge other deep seated problems, the consultancy firm PwC has warned.
The creation of 50,000 new jobs was the main economic target in the DUP's and Sinn Féin's election manifestos.
PwC economist Esmond Birnie said unemployment has been falling steadily.
However, he said that has not translated into increasing productivity, output or wages.
Dr Birnie said improving productivity should be a vital component in the new programme for government currently being negotiated at Stormont.
Productivity is a measure of output per worker and is key to an economy's ability to improve standards of living over time.
Dr Birnie said productivity in Northern Ireland is currently around 8% below the pre-crisis level, while household disposable incomes are, in real terms, around 11% or £1,450 below what the average Northern Ireland family enjoyed in 2007.
"After previous recessions, productivity tended to recover strongly, but not this time," he said.
"While Northern Ireland's unemployment has fallen steadily, there has been a disproportionate rise in part-time jobs and in people working just over 16 hours per week, relative to the rest of the UK.
"As 'full-time' employment is defined as more than 16 hours a week, the number of 'full-time' workers may have increased, but the total number of hours worked per person across the economy has actually fallen below the pre-recession total.
"That has been reflected in low productivity."
The DUP, which is the largest party at Stormont, said in its manifesto that it aimed to create "better jobs" as well as more jobs which it said will be "vital to raising people's incomes".
Dr Birnie also cautioned that increased pension contributions could swallow a large chunk of extra money which the executive got as a result of the last Westminster budget.
The executive got a "Barnett consequential" of an extra £223m over four years, but Dr Birnie said Northern Ireland departments will "be charged with extra pension contributions of about £60-£80m in 2019-20".
The Barnett formula is a system of grants which dictates the level of public spending in Scotland, Wales and Northern Ireland.