Contract Services: Former workers from insolvent firm 'not paid for two weeks'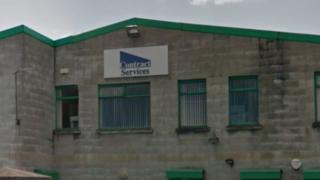 A group of workers who were formerly employed by an insolvent maintenance firm have said they have not been paid for their last two weeks work.
Contract Services (Northern Ireland) was put into administration last week.
Shortly before the administration, 81 workers were transferred to another company, Noonan Services.
The workers believe they should be paid by Contract Services but the administrator said that he has legal advice they should be paid by Noonan.
The BBC has contacted Noonan, which is a major outsourcing company, for a response.
Option
One of the workers told the BBC she has lost out on about £500 and some of her colleagues are owed over £1,000.
The administrator of Contract Services, Seamas Keating, said: "Legislation dictates that Noonan should address the claims for arrears of wages.
"Noonan then will have the option to submit a claim in the administration of Contract Services (Northern Ireland) Limited as a creditor."
The administration of Contract Services was on a "pre-pack" basis meaning the owners immediately bought the bulk of the company's assets using a new firm.
That new firm, Tully Farm Holdings Ltd, took on the 94 staff who were not moved to Noonan.