Magherafelt schools cancel Euro 2016 finals trip over safety fears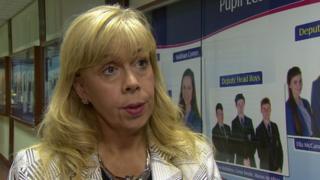 Two Magherafelt schools have cancelled a planned cross-community trip to Paris for the Euro 2016 football tournament due to safety concerns.
Fifty pupils and five staff from St Mary's Grammar School and Magherafelt High School were due to go on the trip from 10-17 June.
However, the schools decided to cancel after attacks in Paris and Brussels.
An official state of emergency will be in place in France until at least the end of the tournament.
The principal of St Mary's Grammar, Deirdre Gillespie, said the safety of pupils had to come first.
"We consulted widely with pupils, staff, parents and governors," she said.
"When we decided to pull the trip we wrote to them and they felt that we had made the right decision.
"Many of us have lived through the Troubles in Northern Ireland.
"Some people would say suck it up and get on with it, but actually when you're responsible for young people's health and well-being you have to make these tough decisions."
The trip cost £550, but pupils and their families got all the money they had paid back.
However, the schools had to pay around £5,000 in costs that could not be refunded.
During the trip, pupils expected to attend two Euro 2016 matches in Paris.
Year 10 pupils at St Mary's Grammar said watching the tournament at home would be tough, but they understood the decision.
Declan Murray has never been to a major football tournament before.
"They said our safety was the number one thing and they couldn't guarantee that," he said.
"I almost expected it because of the two attacks so I wasn't that surprised. I understand why they had to do it.
"It'll still be enjoyable to watch, but it won't just be the same."
Post-primary schools from Magherafelt had previously taken pupils on joint trips to the 2012 Olympic Games and the 2015 Rugby World Cup.
However, St Mary's Grammar said that decisions on future trips to major sporting events would depend on an assessment of any security risks.