Belfast International Airport says plane was not hit by lightning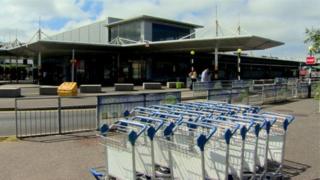 A plane bound for Greece, which returned to Belfast International Airport following concerns it had been struck by lightning, has resumed its journey.
The flight, operated by Thomson Holidays, landed at the airport at about 15:30 BST on Saturday.
Passengers were taken off the plane while detailed checks were carried out.
The passengers were allowed to re-board less than two hours later and the plane took off at 17:15 BST.
A spokesperson for Belfast International Airport said the plane had returned as a precaution and that checks had revealed it had not been hit by lightning.