Self-harm: 6,000 people attend emergency departments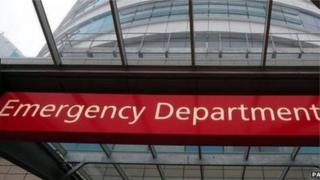 More than 6,000 people turned up at emergency departments across Northern Ireland in 2015 having self-harmed.
The majority were young people, aged between 15 and 24.
Records show that a number of people sought help on more than one occasion with over 8,500 incidents in 12 months.
The statistic is part of the chief medical officer's annual report which reflects on the health of the population in Northern Ireland.
Dr Michael McBride said when it comes to mental health and in particular, self-harm, there is a need to intervene.
"We need to be aware that people who self-harm repeatedly are at much higher risk of taking their own lives by suicide" he said.
A self-harm registry which operates across all acute hospitals is designed to improve understanding about self-harm and to allow for comparative analysis with the Republic of Ireland and parts of England.
In its latest report, the registry concluded that Northern Ireland continues to have a high rate of self-harm.
While alcohol is a factor, drug overdose was the most common method of self-harm.
In his 9th annual report, Dr Michael McBride, gives a wide-ranging review of the service, including health inequalities, vaccination and screening programmes and dental health.
However, he also emphasises that the quality and advances in health care are not the only determinants of good health.
"I have chosen this year's report to lay particular emphasis on the choices we make, the lifestyles we lead and the impact of these on our general health," he said.
Key statistics include 2,317 deaths in 2014 due to smoking; 4,323 deaths from cancer while 2,385 were from heart disease.
Again there is a call for people to drink less alcohol - the new weekly guidelines for men and women recommends not drinking more than 14 units per week.
Dr McBride described as positive, legislation to ban smoking in cars with children passengers.
However, the chief medical officer said he would like similar legislation to ban the sale of legal highs.
Promoting physical activity programmes and introducing two new vaccination programmes aimed at preventing different strains of meningococcal disease which can cause meningitis are hailed as a success.
While it is encouraging that health in Northern Ireland continues to improve, and, as in other countries, life expectancy is rising, this is not evenly spread out across the five health trusts.
Health inequality is now a major issue.
Female life expectancy in the most deprived areas of Northern Ireland was 14.1 years lower than the least deprived areas while the gap for males was 11.8 years.
Dr Michael McBride said: "Many of the wider issues affecting health are interconnected and cannot be tackled by one organisation or sector working alone.
"For this reason cross-sectoral partnership working has long been a key feature of efforts to improve health and health inequalities."
The report also issues a warning regarding unannounced inspections of acute hospitals.
Dr McBride said the regulatory body, the RQIA, will visit all acute hospitals at least once over a three-year period with larger hospitals, including the RVH, Belfast City, Antrim Area, Ulster, Craigavon and Altnagelvin being inspected at least twice.