Winston 'Winkie' Rea: Police given extra time to question leading loyalist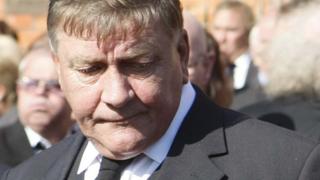 Detectives have been granted more time to question leading loyalist Winston 'Winkie' Rea about interviews he gave to the Boston College history project.
Mr Rea, 65, was arrested in Belfast on Tuesday.
On Thursday, police secured an extra 80 hours to question him about serious crime, including the murders of two Catholics more than 20 years ago.
The victims - John Devine and John O'Hara - were shot dead in separate attacks in Belfast.
Mr Devine, 37, was shot dead at his home in Fallswater Street in the west of the city on 23 July 1989.
On 17 April 1991, John O'Hara, 41, was shot at Dunluce Avenue in south Belfast.
No-one has been charged with the murders.
Last year, police gained access to tapes containing interviews Mr Rea gave to an American university project.
He was among dozens of loyalists and republicans who provided testimonies to Boston College staff to help them compile an oral history of Northern Ireland's Troubles.
The interviews were given on the understanding that they would not be made public until the death of the interviewees.