Masked men attack 19-year-old in north Belfast house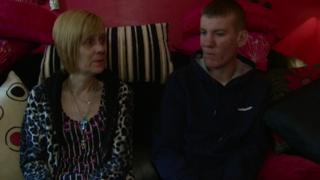 A man has been injured after he was assaulted in a house in north Belfast.
Police said a number of men wearing hooded tops and with their faces covered entered the property on Kinnaird Street at about 23:45 BST on Saturday.
Liam Foster, 19, was cut on the neck and sustained bruising to his body.
One of the men was reported to have been carrying a gun, and several other men remained outside the house during the attack.
They made off in the direction of the New Lodge.
Mr Foster said he believed he was going to die: "They had me in the corner, stamping all over my back, punching me and throwing stuff act me. I thought that was my life over."
The victim's mother, Donna Foster was also in the house at the time but was not injured.
An emotional Ms Foster said the attack was extremely frightening.
"I was in the kitchen washing the dishes and my son came running in," she said.
"Those two, with their hoods up, came running in to the kitchen after him and just started beating him, kicking him and throwing things at him.
"I don't know what it was over.
"They said they were going to come back again and finish him. I was scared and I'm still scared today in case anyone comes back near the door. I'm thinking about moving."
Sinn Féin MLA Gerry Kelly said those behind the attack "offer nothing to society and are at war with the community".
Police have asked for anyone with information about the attack to contact them on the non-emergency number 101.