Tomb Street hotel given go-ahead from planners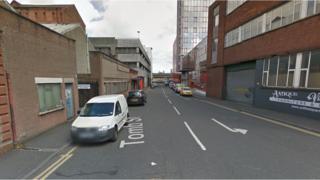 Planners have recommended the go-ahead for a proposal to build a hotel on Tomb Street in Belfast.
Cookstown developer McAleer and Rushe is planning a 12-storey, 250 bedroom development. A similar scheme was approved in 2008 but not proceeded with.
Belfast currently has more than 12 hotel projects in various stages of planning or development.
The planners' report said the scheme is "not noteworthy in terms of design".
However, it said it will help reinvigorate an area which has suffered "substantial urban decay."
Connswater
Meanwhile planners have reversed a recommendation that a new Lidl store in east Belfast should be refused.
The food retailer wants to relocate within the Connswater retail park.
The units which Lidl is pursuing only have planning permission for the sale of bulky goods like furniture.
The original recommendation said changing the use would conflict with policies which favour the use of existing suitable sites.
However, Lidl submitted new information which has been considered by the Town Solicitor, the council's top legal official.
He has advised that the relocation does not conflict with planning policies and the application has now been recommended for approval.
The council's planning committee will decide both applications next week.