Jo Cox: Tributes paid to Labour MP at Belfast vigil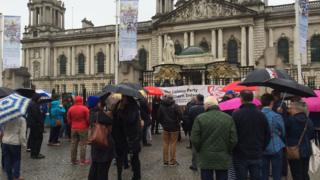 A vigil has been held in Belfast city centre to pay tribute to the MP Jo Cox who was killed on Thursday.
The event outside Belfast City Hall was organised by members of the Labour Party in Northern Ireland to express their "shock, outrage and sadness".
The SDLP MP for South Belfast Alasdair McDonnell was among those who signed a book of condolence.
Thomas Mair, 52, has appeared before Westminster Magistrates' Court charged with the murder of Mrs Cox.
A memorial fund set up in her name has topped £600,000.
The funds raised in the memorial fund will support three causes her husband, Brendan Cox, said were close to her heart, including the The Royal Voluntary Service, HOPE not hate and The White Helmets.
Parliament will be recalled on Monday to allow MPs to pay further tributes to Mrs Cox.