EU Referendum: David Cameron rules out border poll on Irish unity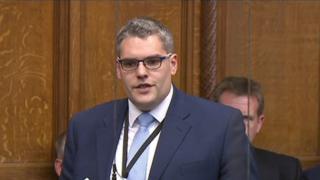 The Prime Minister David Cameron has rejected any suggestion of a Northern Ireland border poll.
Sinn Féin called for a vote on a united Ireland following last week's EU referendum.
Responding to a question from the DUP MP Gavin Robinson in Parliament on Monday, David Cameron said the prospect of holding a referendum on Irish unity was in the Good Friday Agreement.
But he said the criteria for holding such a poll had not been triggered.
Parliament
He also said that the decision about taking the United Kingdom out of the European Union was a matter for Parliament, not for the devolved institutions in Northern Ireland, Scotland and Wales:
"In terms of the decision to leave the EU and how we do it, that is principally a matter for this Westminster United Kingdom parliament."
David Cameron also confirmed that discussions would take place between the British and Irish governments about the common travel area between the Republic of Ireland and the United Kingdom.
"It's important we get the issues around the common travel area right, they are complex, they are difficult, if Northern Ireland is going to be the frontier between the United Kingdom outside the European Union and the European Union."