Department of Education reverses nurture units funding for two Irish language schools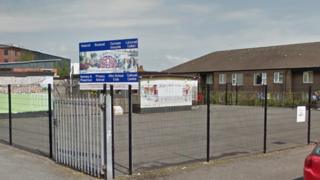 The Department of Education (DE) has overturned a decision made by the former education minister to introduce nurture units in two Irish-medium primary schools.
Former education minister John O'Dowd had decided Scoil An Droichid and Bunscoil Bheann Mhadagáin could each run a 'nurture group' in 2016/2017.
These groups provide extra help for young people with behavioural problems.
The DE told the schools last Friday there was no money to open the units.
The schools were told about Mr O'Dowd's decision in April and the units were to open in September.
The two schools would have been the first Irish-medium schools funded to run them.
In a statement, DE said that it was made clear to the schools "that the commencement of the pilot remained contingent upon securing funding".
In the letter to Fionnguala McCotter, the principal of Scoil an Droichid, a DE official said: "Due to current pressures on the department's budget, we have been unable to secure the funding required to allow the project to proceed.
"I appreciate that this will be extremely disappointing for the school and that you have already invested significant time and effort in staff training."
Both schools had already spent thousands of pounds on equipment for the units, and trained and recruited teaching staff.
Specialist teaching
They were to receive around £69,000 each to allow them to open the units for a year.
Nurture groups are small units within primary schools that provide additional targeted help for pupils with social, emotional or behavioural problems.
The pupils, usually from Key Stage 1, that are educated in the unit receive specialist teaching and support.
Currently, 30 primary schools across Northern Ireland are funded for nurture units, although none are Irish-medium schools.
The Department of Education and the former Department of Social Development (DSD) provided an initial £3m of funding for the units from 2013.
Further funding was then provided by DE to enable the classes to continue.
A recent evaluation of the classes carried out by experts from Queen's University found that they were "highly successful".
The evaluation noted "improvements in the social, emotional and behavioural skills of children from deprived areas exhibiting significant difficulties."
In a statement, a DE spokesperson said that they were currently funding nurture groups in 30 Primary Schools across Northern Ireland at a cost of £2.26m.
"In April 2016 the former Education Minister decided to bring forward a one year nurture group pilot for schools in the Irish Medium sector," they said.
"Funding could not be secured at that time and although initial engagement took place to identify two potential participants, it was made clear that the commencement of the pilot remained contingent upon securing funding."
DE also said that the costs the schools had paid for staff training would be reimbursed.