Royal Victoria Hospital: Man cautioned for indecent behaviour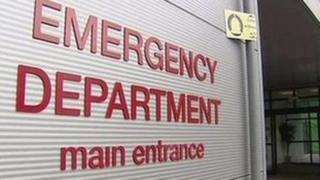 A 66-year-old man has been cautioned for indecent behaviour following an incident at a Belfast hospital.
Police were called to the accident and emergency department at the Royal Victoria Hospital (RVH) at 03:30 BST on Wednesday.
It is understood the incident happened in a toilet area.
In a statement, the Belfast Health Trust said: "This is subject to an ongoing investigation so we are unable to comment further."
The trust added that "staff and patients deserve to be treated with respect and any inappropriate behaviour will not be tolerated".
Police said a file will be prepared for submission to the Public Prosecution Service.