Council investigates dumping of tyres at a Dundonald bonfire site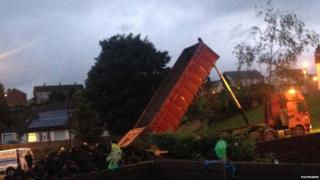 Lisburn and Castlereagh Council is investigating the dumping of tyres at a bonfire site in Dundonald.
A large tipper truck was observed delivering the tyres under cover of darkness on Wednesday night.
A council spokesperson said the bonfire was on land owned by the Housing Executive (NIHE) in Ballybeen.
"The council has been in touch with the NIHE to raise the issue of the tyres at the site and to request the matter is investigated," they said.
"The Northern Ireland Environment Agency has also been contacted by the council regarding the nature and volume of the bonfire material."
Asked about the burning of tyres on bonfires on the Radio Ulster's Nolan programme, community worker Jim Wilson there was "a very, very small minority we are talking about where we have problems".
"You're talking about businesses making money out of it, and that comes down to the PSNI to deal with it."
Meanwhile, Belfast City Council said it had received reports that tyres had been collected at a bonfire at Avoneil in the east of the city.
"We have been engaging with the local community at this site to have the tyres removed and will continue in our efforts to manage the negative impacts of the bonfire which includes the burning of tyres," a spokesperson said.
Ulster Unionist Cllr Jim Rodgers said the inclusion of tyres in bonfires was "a worrying development".
He said that councillors had met the police and asked them to be "more pro-active" regarding bonfires.