Scarva: Thousands attend annual 'Sham Fight'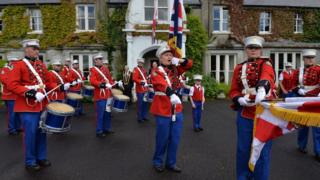 Thousands of spectators braved the rain in Scarva, County Down, on Wednesday to attend the annual Sham Fight.
The event is a theatrical re-enactment of the victory of William III of Orange over the Catholic King James II at the Battle of the Boyne in 1690.
This year tens of thousands of visitors - including Northern Ireland First Minister Arlene Foster took part in or watched the days events.
The Pageant attracts thousands of members of the Royal Black Preceptory.
Ninety bands paraded through the village, followed by the re-enactment.