Nice attack: Simple pizza delay saved Belfast family from attack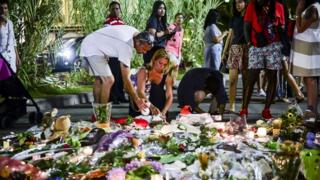 A Belfast businessman has described how a simple delay on a pizza order saved his sons from getting caught up in the French terror attack.
Suneil Sharma was in a beachfront restaurant when a Tunisian man drove his lorry into crowds of people as they celebrated Bastille Day in Nice last Thursday.
More than 80 people were killed. Among the dead were 10 children.
A book of condolence for the victims is to open at Belfast City Hall later.
Mr Sharma had been on holiday in Nice with his two sons, aged 15 and 11; his sister, Sujata, who works for BBC Northern Ireland and two nephews.
They were at a beachfront restaurant when the lorry attack happened. If it were not for the delay in the food order, their story could have been very different, he said.
"It was as banal as that - a pizza order being delayed stopped them coming down to the waterfront to join us all to watch the fireworks exactly where the lorry was creating the carnage on the road," he said.
"Luck was smiling upon us and it would be wrong to think of 'what ifs'. The reflection is that we weren't part of the people killed or injured."
Mr Sharma said the horror of what had happened in Nice was "slowly sinking in".
"The children weren't there. They heard some gunshots. But they saw the footage on television and were shocked.
"I look at them a bit harder and I look at them a bit longer since we came back. You don't take anything for granted, that's for sure," he said.
The family returned from holiday last Saturday. But they spent their last day down at the seafront in Nice with others who were remembering the dead and injured,
"The mood was very solemn, very reflective. They couldn't believe this had happened. Some people were angry, others were reflective and sad. There was a whole range of emotions. Still, for us, it is sadness at how anybody could do this. It is beyond my comprehension completely," he said.
Belfast's book of condolence will open at 11:00 BST in the main entrance hall of city hall.
Deputy Lord Mayor Mary Ellen Campbell said it would allow Belfast citizens to "stand in solidarity with those who were injured and have lost loved ones".
"The attack in Nice resulted in 84 deaths, it happened on their national holiday.
"It's right that we give people here an opportunity to show that solidarity," Ms Campbell said.
Last Friday night, the day after the attack, Belfast City Hall was illuminated in the colours of the French flag - red, white and blue, again as a mark of support for the victims.