Lowcost Holidays: Newtownabbey couple pay an extra £710 after holiday firm collapse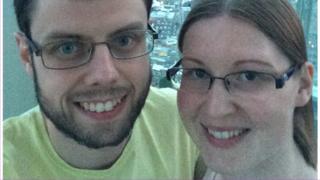 A Newtownabbey man has said he was "sickened" to discover he had lost more than £700 and had to pay up twice to save his summer holiday.
It followed the collapse of holiday booking company Lowcost Travelgroup.
Stuart Briers from Rathcoole found out on Friday that the company had gone into liquidation.
It looked like he and his fiancée, Emma Boyd's, holiday in Portugal was on the rocks. He had booked the hotel with the company, separately from the flights.
"I felt sickened when I found out on Friday. The company had been Atol protected until a few years ago when it moved to Spain. We thought it was protected by Spanish law but I don't think we are covered," he said.
Mr Briers rang the hotel in Albufeira directly on Saturday to discover that they needed to pay all over again to keep their booking for August. The bill was £710.
"We have lost our money because I paid originally by debit card when I made the booking in March. There seems to be no real way to get the money back," he said.
"We have filed a claim with the administrators (for Lowcost Travelgroup) but it is very unlikely that we will get anything. It was a shock. We have learned a lesson - pay by credit card to make sure it is protected. But hindsight is a great thing."
Credit card cover and travel insurance may be the only ways to recoup losses brought about by the holiday company's collapse. It went into liquidation on Friday, leaving 27,000 holiday makers in resorts and 110,000 more with bookings.
Doreen McKenzie of ABTA the Travel Association in Northern Ireland said the UK's Atol scheme did not apply as the company had moved base to the Balearic Islands a few years ago.
But there is still hope for holidaymakers, she said.
"The flights may be covered. These are generally with 'no frills' airlines and have to be paid upfront at the time of booking. However, it is still important to check this with the airline," she said.
It would also be important to contact the individual hotel, she said.
"Check with the hotel directly and find out whether the accommodation has been prepaid and whether it has to be paid again," she said.
Ms McKenzie said holidaymakers should also check whether their travel insurance contains a "supplier failure" clause.
After that, if people paid with their holidays with a credit card, they may be able to claim compensation for being out of pocket.
This might cover holidaymakers who are currently abroad and find that they have to "pay again" for their hotel accommodation because of the firm's collapse.
Claim form
Meanwhile, in the Republic of Ireland, the Commission for Aviation Regulations in Ireland is to issue a claim form for Irish holidaymakers impacted by the collapse.
It is understood that some people who booked holidays with the company but have yet to travel can claim if the holiday will not be honoured.
The commission's director of legal affairs David Hodnett told Irish national broadcaster RTÉ that the commission would also cover people who are abroad and find they have to pay a second set of accommodation fees.
Customers were advised to keep all receipts and statements.
Uncertainty ahead of the EU referendum and the fall in the pound have been blamed for the firm's demise.
Lowcost Travelgroup employed 120 staff in Crawley, West Sussex who have been made redundant.
Most of the company's 451 staff were based in Poland.