Saintfield Road Presbyterian Church targeted in second arson attack within days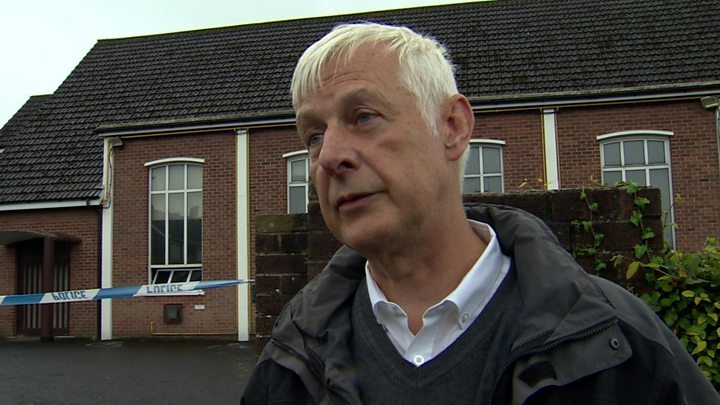 A Belfast church has "sustained considerable damage" after it was targeted in a second arson attack in two days, police have said.
Fires were set inside Saintfield Road Presbyterian Church and hall during the early hours of Friday and again early on Sunday.
Church elder Alistair McCracken said the congregation did not know why their church was being targeted.
Police said "a sectarian motive is only one of a number of lines of enquiry".
Following the latest blaze, services were cancelled on Sunday morning.
Mr McCracken said fires were set in both the hall and the church sanctuary.
"We're really very sad," he added.
"We're also sad about the impact that this is having on the wider community. This church is a community church, it's very widely used."
He said that the congregation were "forgiving people".
"We have experienced the forgiveness of God and would want to be able to say that we extend that to the folks who have done this, for whatever reason."
It is understood that a carpet was set alight in one part of the buildings, causing extensive smoke damage to the interior.
"We haven't been into the building so we don't know how extensive it is," Mr McCracken said.
On its Facebook page on Sunday, a church spokesperson said "the entire church building and halls are strictly out of bounds".
"Please stay away from the church as investigations are still under way," it added.
'Senseless'
"Worship on Sunday morning will not go ahead at Saintfield Road, however, worship services are happening in the other local churches."
A police cordon has been erected outside the south Belfast building.
Some parishioners who would normally be attending its Sunday service arrived outside while forensic investigators were inside dusting for fingerprints.
Sunday's arson happened some time between 01:00 BST and 01:20 BST on Sunday.
Northern Ireland's First Minister Arlene Foster said she was "so sad to learn that Saintfield Road Presbyterian church has been attacked".
Writing on her Twitter account, she described it as a "senseless hate crime".
'Gutted'
Deputy First Minister Martin McGuinness tweeted: "Disgusted at the despicable arson attacks on Saintfield Road Presbyterian Church.
"I hope the criminals responsible can be arrested. #shameful"
Northern Ireland Secretary James Brokenshire said he was "shocked and saddened to hear of the disgraceful attack".
"My thoughts are with its parishioners who will be devastated by this news," he added.
The church said it had to use the services of professional cleaners after Friday's fire "severely gutted" the kitchen and led to flooding in the toilets.
At the time, the church's spokesperson said: "Thankfully, no-one was in the building during the fire, and nobody was hurt or injured."